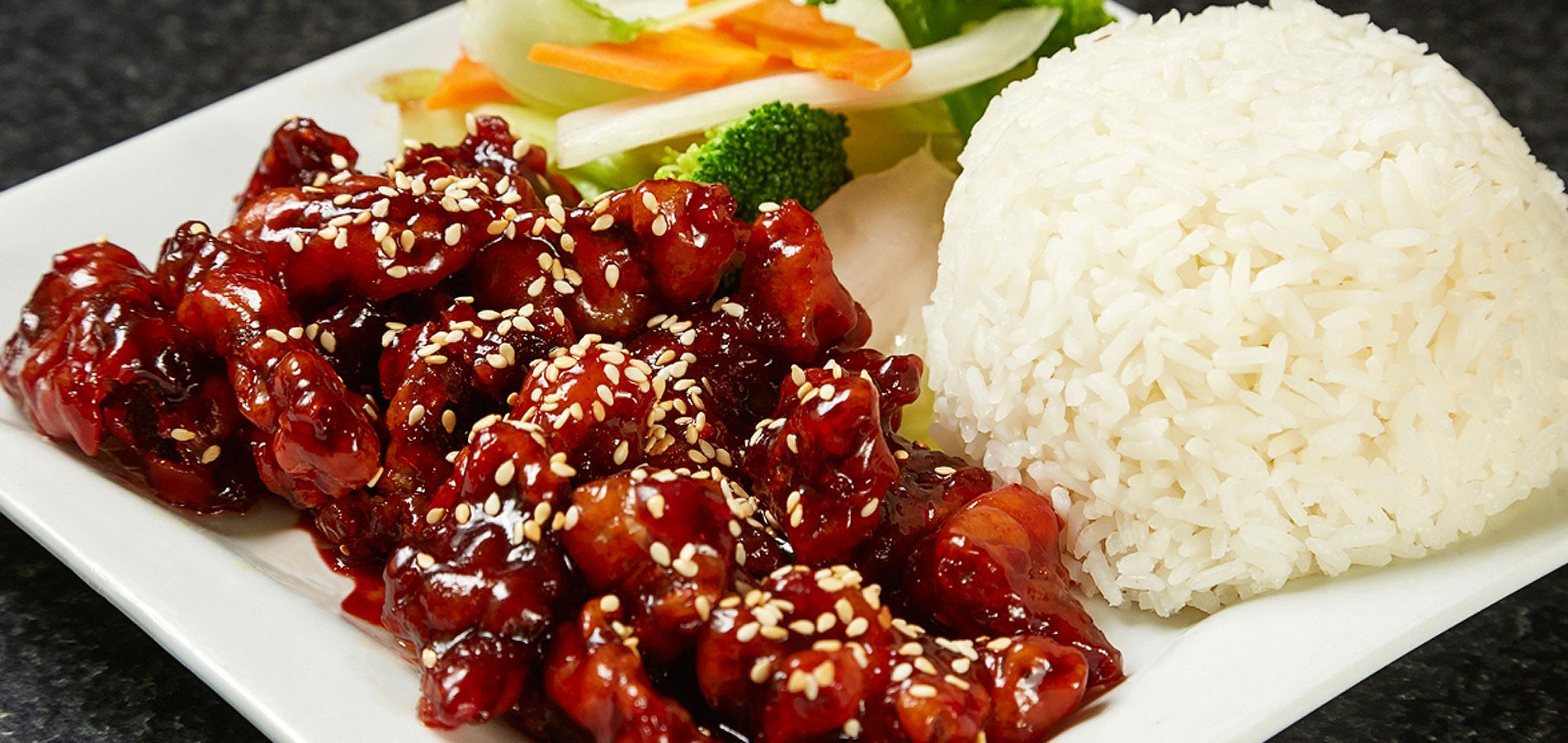 Emplacements de Wok Cafe
1845, rue Sainte-Catherine O
Montréal
QC
H3H 1M2

Les menus
Spéciaux /Specials-Combo Spéciaux
Les repas sont servis avec du riz, des légumes et votre choix de rouleaux de printemps ou la soupe wonton ou soupe aigre-piquante.
Remplacer le riz à la vapeur avec des nouilles $2.95 extra
Remplacer le riz à la blanc avec du riz frit $2.50
/ All meals served with rice, vegetables and your choice of spring roll or soup: wonton or hot andsour.
Replace white rice for noodles $2.95 extra.
Replace white rice for fried rice $2.50 extra
Poulet Général Tao / General Tao Chicken
Boeuf au Sésame / Crispy Sesame Beef
Boeuf aux Gingembre et Échalotes / Beef with Ginger and Shallots
Boeuf à la Sauce Cari Style Singapore / Singapore Style Curry Beef
Poulet à la Sauce Cari Rouge / Thai Red Curry Chicken
Poulet à la Sauce aux Arachides Épicés / Chicken with Spicy Peanut Sauce
Poulet à la Sauce aux Fèves Noires / Chicken with Black Bean Sauce
Poulet au Citron / Lemon Chicken
Poulet Aigre-Douce aux Ananas / Sweet and Sour Pineapple Chicken
Crevettes à la Sauce d'Homards / Shrimps in Lobster Sauce
Crevette Général Tao / General Tao Shrimp
Fruits de Mer Style Thaïlandais / Thai Style Seafood
Chow Mein Cantonais / Cantonese Style Chow Mein
Pas de riz./No rice
Vermicelles Style Singapore / Singapore Style Vermicelli
. Pas de riz./No rice
Combo Végétariens/Vegetarian Combo
Les repas sont servis avec du riz, des légumes et votre choix de rouleaux de printemps ou la soupe wonton ou soupe aigre-piquante.
Remplacer le riz à la vapeur avec des nouilles $2.95 extra.
Remplacer le riz à la blanc avec du riz frit $2.50 extra.
All meals served with rice, vegetables and your choice of spring roll or soup: wonton or hot and sour.
Replace white rice for noodles $2.95 extra.
Replace white rice for fried rice $2.50 extra
Tofu à la Sauce Piquante / Tofu in Hot and Spicy Sauce
Tofu Général Tao / General Tao Tofu
Tofu à la Sauce Cari Rouge Thaïlandais / Thai Red Curry Tofu
Tofu à la Sauce Cari Style Singapore / Singapore Style Curry Tofu
Tofu à la Sauce aux Arachides Épicés / Tofu with Spicy Peanut Sauce
Tofu aux Champignons Chinois / Tofu with Chinese Mushrooms
Aubergine à la Sauce "Yu Hsiang" /Eggplant with "Yu Hsiang" Sauce
Aubergine Style Thaïlandais / Thai Style Eggplant
Aubergine à la Sauce aux Fèves Noires / Eggplant with Black Bean Sauce
Chow Mein aux Légumes / Vegetable Chow Mein
Pas de riz/No rice
Combo Dim Sum
Combo Dim Sum A
Riz collant au porc (1 morceau) ,Siu Mai (dumpling au porc et crevette) ,2 morceaux Har Kao (dumpling au crevette), 2 morceaux Chiu chow (dumpling au porc, crevette et arachides), 2 morceaux
Pork sticky rice (1 piece) ,Shrimp and pork dumplings (2 pieces), Shrimp dumplings (2 pieces) ,Pork, shrimp and peanut dumplings (2 pieces)
Combo Dim Sum B
Riz collant au porc (1 morceau), Dumpling au porc et légumes à la vapeur (2 morceaux), Har Kao (dumpling au crevette) (2 morceaux), Chiu Chow (dumpling au porc, crevette et arachides) (2 morceaux)
Pork sticky rice (1 piece), Steamed pork and vegetable dumplings (2 pieces), Shrimp dumplings (2 pieces), Pork, shrimp and peanut dumplings (2 pieces)
Combo Dim Sum C
Riz collant au porc (1 morceau), Dumpling au pétoncles (2 morceaux), , Har Kao (dumpling au crevette), 2 morceaux, Chiu Chow (dumpling au porc, crevette et arachides), 2 morceaux
Pork sticky rice (1 piece), , Scallop dumplings (2 pieces), Shrimp dumplings (2 pieces), Pork, shrimp and peanut dumplings (2 pieces)
Combo Dim Sum D
Riz collant au porc (1 morceau), , Dumpling au pétoncles (2 morceaux), Dumpling au coriandre (2 morceaux), Chiu chow (dumpling au porc, crevette et arachides), 2 morceaux
Pork sticky rice (1 piece), Scallop dumplings (2 pieces), Coriander dumplings (2 pieces), Pork, shrimp and peanut dumplings (2 pieces)
Combo Dim Sum E
Riz collant au porc (1 morceau), Dumpling au pétoncles (2 morceaux), Har Kao (dumpling au crevette), 2 morceaux, Dumpling au coriandre (2 morceaux)
Pork sticky rice (1 piece), Scallop dumplings (2 pieces), Shrimp dumplings (2 Pieces), Coriander dumplings (2 pieces)
Combo Dim Sum F
Riz collant au légumes (1 morceau), Rouleaux aux légumes (3 morceaux), Dumpling aux légumes (2 morceaux), Chow mein aux germes de haricots
Vegetable sticky rice (1 piece), Vegetable beancurd roll (3 pieces), ,Vegetable dumplings (2 pieces), Beansprouts chow mein
Soupes/Soups
A1. Soupe Won Ton / Won Ton Soup
| | | |
| --- | --- | --- |
| Petit/Small | 2.95 | |
| Grand/Large | 6.95 | |
A2. Soupe Won Ton au Porc et Crevette / Pork and Shrimp Won Ton Soup
| | | |
| --- | --- | --- |
| Petit/Small | 3.95 | |
| Grand/Large | 7.95 | |
A3. Soupe Aigre-Piquant / Hot and Sour Soup
| | | |
| --- | --- | --- |
| Petit/Small | 2.95 | |
| Grand/Large | 6.95 | |
A4. Soupe au Crabe et Maïs / Crab Meat in Corn Soup
| | | |
| --- | --- | --- |
| Petit/Small | 3.95 | |
| Grand/Large | 7.95 | |
A5. Soupe au Poulet et Maïs / Chicken in Corn Soup
| | | |
| --- | --- | --- |
| Petit/Small | 3.95 | |
| Grand/Large | 7.95 | |
A6. Soupe aux Fruits de Mer et Tofu / Seafood
| | | |
| --- | --- | --- |
| Petit/Small | 3.95 | |
| Grand/Large | 7.95 | |
A7. Soupe aux Légumes / Vegetable Soup
| | | |
| --- | --- | --- |
| Petit/Small | 2.95 | |
| Grand/Large | 6.95 | |
A8. Soupe Miso / Miso Soup
| | | |
| --- | --- | --- |
| Petit/Small | 2.95 | |
| Grand/Large | 6.95 | |
A9. Soupe Tom Yum avec Crevettes / Spicy Tom Yum
| | | |
| --- | --- | --- |
| Petit/Small | 3.95 | |
| Grand/Large | 10.95 | |
A10. Soupe Tom Yum avec Fruits de Mer / Tom Yum Soup with Seafood
| | | |
| --- | --- | --- |
| Petit/Small | 3.95 | |
| Grand/Large | 7.95 | |
A11. Soupe Tom Yum avec Poulet / Tom Yum Soup with Chicken
| | | |
| --- | --- | --- |
| Petit / Small | 3.95 | |
| Grand/Large | 7.95 | |
Soupe Tom Yum avec Lait de Coco / Tom Yum Soup with Coconut Milk
| | | |
| --- | --- | --- |
| Petit / Small | 4.45 | |
| Grand/Large | 8.45 | |
Hors d'Oeuvres/Appetizers
B1. Egg Rolls au Porc (2) / Pork Egg Rolls (2)
B2. Rouleaux de Printemps aux Légumes (2) /Vegetable Spring Rolls (2)
B3. Raviolis à la Sauce d'Arachides (8) /Hunan Dumplings with Peanut Sauce (8)
B4. Won Ton Frits au Porc (8) / Pork Fried Won Ton (8)
Accompagnements / Side Orders
C1. Ailes de Poulet Frits (6) / Fried Chicken Wings (6)
C2. Tofu Sautés au Sel et Épices / Tofu Sauteed with Salt and Pepper
C3. Calmars Frits Sautés au Sel et Épices / Calamari Sauteed with Salt and Pepper
C4. Champignons Sautés au Sel et Épices / Mushrooms Sauteed with Salt and Pepper
C5. Épinards Frits Croustillants / Fried Crispy Spinach
Soupe aux Nouilles/Noodle Soup
Choix de nouilles aux oeufs ou nouilles de riz.
Servi avec des légumes dans un bouillon de poulet chaud.
Soupe tom yum au nouilles avec lait de coco ajouter $1.00 / Choice of egg noodles or rice noodles. Served with vegetables in a hot chicken broth. Tom yum soup with coconut milk add $1.00.
D1. Won Ton (Crevette et Porc) Soupe aux Nouilles / Won Ton (Shrimp and Pork) Noodle Soup
D2. Canard BBQ Soupe aux Nouilles /BBQ Duck Noodle Soup
D3. Soupe au Ragoût de Boeuf Style ChinoisSoupe aux Nouilles / Chinese Style Beef Stew Noodle Soup
D4. Crevettes Soupe aux Nouilles /Shrimp Noodle Soup
D5. Fruits de Mer Soupe aux Nouilles /Seafood Noodle Soup
D6. Soupe aux Nouilles / Noodle Soup
| | | |
| --- | --- | --- |
| Poulet / Chicken | 9.95 | |
| Boeuf / Beef | 9.95 | |
D7. Légumes Soupe aux Nouilles / Vegetable Noodle Soup
D8. Fruits de Mer Soupe aux Nouilles Udon /Seafood Udon Noodle Soup
Nouilles udon Japanais servi avec des légumes dans un bouillon de poulet chaud./ Japanese udon noodles served with vegetables in a hot chicken broth
D9. Côtelettes de Porc Soupe aux Nouilles Udon / Pork Chops Udon Noodle Soup
Nouilles udon Japanais servi avec des légumes dans un bouillon de poulet chaud
Japanese udon noodles served with vegetables in a hot chicken broth
D10. Légumes Soupe aux Nouilles Udon / Vegetables Udon Noodle Soup
Nouilles udon Japanais servi avec des légumes dans un bouillon de poulet chaud
Japanese udon noodles served with vegetables in a hot chicken broth
D11. Crevettes Soupe Tom Yum aux Nouilles// Shrimp Tom Yum Noodle Soup
Servi avec des champignons et des nouilles de riz dans une soupe Thaïlandais épicée
Served with mushrooms and rice noodles in a hot and spicy Thai style soup
D12. Fruits de Mer Soupe Tom Yum aux Nouilles/ Seafood Tom Yum Noodle Soup
Servi avec des champignons et des nouilles de riz dans une soupe Thaïlandais épicée
Served with mushrooms and rice noodles in a hot and spicy Thai style soup
D13. Boeuf Soupe Tom Yum aux Nouilles/ Beef Tom Yum Noodle Soup
Servi avec des champignons et des nouilles de riz dans une soupe Thaïlandais épicée
Served with mushrooms and rice noodles in a hot and spicy Thai style soup
D14. Poulet Soupe Tom Yum aux Nouilles/ Chicken Tom Yum Noodle Soup
Servi avec des champignons et des nouilles de riz dans une soupe Thaïlandais épicée
Served with mushrooms and rice noodles in a hot and spicy Thai style soup
D15. Légumes Soupe Tom Yum aux Nouilles/ Vegetables Tom Yum Noodle Soup
Servi avec des champignons et des nouilles de riz dans une soupe Thaïlandais épicée
Served with mushrooms and rice noodles in a hot and spicy Thai style soup
D16. Boeuf Soupe Tonkinoise aux Nouilles/ Beef Tonkinese Noodle Soup
Soupe aux nouilles style Vietnamien avec un bouillon au boeuf
Vietnamese style soup with rice noodles in a beef broth
D17. Poulet Soupe Tonkinoise aux Nouilles/ Chicken Tonkinese Noodle Soup
Soupe aux nouilles style Vietnamien avec un bouillon au poulet
Vietnamese style soup with rice noodles in a chicken broth
Dim Sum
E1. Riz Collant au Porc (2 Morceaux) / Pork Sticky Rice (2 Pieces)
E2. Riz Collant au Légumes (2 Morceaux)/ Vegetable Sticky Rice (2 Pieces)
E3. Har Kao
Dumpling au crevette (4 morceaux)/Shrimp dumplings (4 pieces)
E4. Sui Mai
Dumpling au porc et crevette (4 morceaux)
Shrimp and pork dumplings (4 pieces)
E5. Chiu Chow
Dumpling au porc, crevette et arachides (3 morceaux)
Pork, shrimp and peanut dumplings (3 pieces)
E6. Dumpling au Porc et Légumes (4 Morceaux)/ Pork and Vegetable Dumplings (4 Pieces)
E7. Dumpling au Pétoncle et Crevette (3 Morceaux)/ Scallop and Shrimp Dumplings (3 Pieces)
E8. Dumpling au Coriandre et Crevette (3 Morceaux)/ Coriander and Shrimp Dumplings (3 Pieces)
E9. Dumpling aux Légumes (4 Morceaux)/ Vegetable Dumplings (4 Pieces)
E10. Rouleaux aux Légumes (6 Morceaux)/ Vegetable Beancurd Roll (6 Pieces)
E11. Dumpling au Champignon, Porc et Crevette(3 Morceaux) / Mushroom, Pork and Shrimp Dumplings (3 Pieces)
E12. Dumpling Frit au Poulet (8 Morceaux)// Pan Fried Chicken Dumplings (8 Pieces)
Nouilles/Noodles
Nouilles Sautés / Stir Fried Noodles
F1. Style Cantonais Chow Mein /Cantonese Style Chow Mein
| | | |
| --- | --- | --- |
| Crevette / Shrimp | 10.95 | |
| Porc BBQ / BBQ Pork | 10.95 | |
| Poulet / Chicken | 10.95 | |
Nouilles frits servis avec des légumes dans une sauce légère/Pan fried noodles served with vegetables in light sauce
F2. Crevettes / Shrimp Chow Mein
Nouilles frits servis avec des légumes dans une sauce légère/Pan fried noodles served with vegetables in light sauce
F3. Fruits de Mer / Seafood Chow Mein
Crevette, Calmar et Crabe / Shrimp, Calamari and Crab
Nouilles frits servis avec des légumes dans une sauce légère/
Pan fried noodles served with vegetables in light sauce
F4. Boeuf / Beef Chow Mein
Nouilles frits servis avec des légumes dans une sauce légère
Pan fried noodles served with vegetables in light sauce
F5. Poulet / Chicken Chow Mein
Nouilles frits servis avec des légumes dans une sauce légère/Pan fried noodles served with vegetables in light sauce
F6. Porc / Pork Chow Mein
Nouilles frits servis avec des légumes dans une sauce légère/Pan fried noodles served with vegetables in light sauce
F7. Légumes / Vegetables Chow Mein
Nouilles frits servis avec des légumes dans une sauce légère/Pan fried noodles served with vegetables in light sauce
F8. Poulet et Crevettes Pad Thai /Chicken and Shrimp Pad Thai
Nouilles de riz sautés style Thaïlandais avec des arachides écrasés/Spicy Thai style stir fried rice noodles with a sprinkle of crushed peanuts
F9. Légumes Pad Thai / Vegetable Pad Thai
Nouilles de riz sautés style Thaïlandais avec des arachides écrasés/Spicy Thai style stir fried rice noodles with a sprinkle of crushed peanuts
F10. Crevettes et Porc BBQ Vermicelles Style Singapore / Shrimp and BBQ Pork Singapore Style Vermicelli
Vermicelles sautés avec des oignons, des poivrons et du cari jaune épicé/Vermicelli stir fried with peppers and a spicy yellow curry
F11. Légumes Vermicelles Style Singapore / Vegetable Singapore Style Vermicelli
Vermicelles sautés avec des oignons, des poivrons et du cari jaune épicé/Vermicelli stir fried with peppers and a spicy yellow curry
F12. Nouilles Style Shanghai au Porc BBQ et Crevettes / Shrimp and Pork BBQ Shanghai Style Noodles
Nouilles sautés avec des oignons, des poivrons et de la sauce soja
Stir fried noodles with peppers, onions and soya sauce
F13. Nouilles Style Shanghai aux Légumes /Vegetables Shanghai Style Noodles
Nouilles sautés avec des oignons, des poivrons et de la sauce soja/Stir fried noodles with peppers, onions and soya sauce
F14. Chow Mein aux Germes d'Haricots /Beansprouts Chow Mein
Nouilles aux oeufs sautés avec des germes d'haricots, des oignons et de la sauce soja/Stir fried egg noodles with beansprouts, onions and soya sauce
F15. Udon Japonais aux Fruits de Mer /Japanese Seafood Udon
Nouilles udon sautés avec des poivrons, des oignons, crevettes, calmar et crabe/Stir fried udon noodles with peppers, onions, shrimp, calamari and crab
F16. Boeuf Nouilles de Riz Sautés /Beef Stir Fried Rice Noodles
Nouilles de riz sautés avec des oignons, des germes d'haricots et de la sauce soja/Stir fried rice noodles with onions, beansprouts and soya sauce
F17. Poulet Nouilles de Riz Sautés /Chicken Stir Fried Rice Noodles
Nouilles de riz sautés avec des oignons, des germes d'haricots et de la sauce soja/Stir fried rice noodles with onions, beansprouts and soya sauce
F18. Crevettes à la Sauce Homard avec Les/Nouilles de Riz
Crevettes dans une sauce savoureuse aux fèves noires et oeufs servie au dessus les nouilles de riz/Shrimps in a tasty black bean and egg sauce on stir fried rice noodles
F19. Boeuf Nouilles à la Sauce aux Fèves Noires/ Beef Noodles with Black Bean Sauce
Des poivrons, des oignons dans une sauce épicée aux fèves noires servi au dessus les nouilles de riz sautés
Peppers and onions in a spicy black bean sauce served on stir fried rice noodles
F20. Poulet Nouilles à la Sauce aux Fèves Noires// Chicken Noodles with Black Bean Sauce
Des poivrons, des oignons dans une sauce épicée aux fèves noires servi au dessus les nouilles de
riz sautés
Peppers and onions in a spicy black bean sauce served on stir fried rice noodles
F21. Fruits de Mer Nouilles à la Sauce Satay /Seafood Noodles with Satay Sauce
Des poivrons, des oignons et des ananas dans une sauce épicée servi au dessus les nouilles de riz sautés
Peppers, onions and pineapple in a spicy sauce served on stir fried rice noodles
F22. Boeuf Nouilles à la Sauce Satay /Beef Noodles with Satay Sauce
Des poivrons, des oignons et des ananas dans une sauce épicée servi au dessus les nouilles de riz sautés
Peppers, onions and pineapple in a spicy sauce served on stir fried rice noodles
F23. Poulet Nouilles à la Sauce Satay /Chicken Noodles with Satay Sauce
Des poivrons, des oignons et des ananas dans une sauce épicée servi au dessus les nouilles de riz sautés
Peppers, onions and pineapple in a spicy sauce served on stir fried rice noodles
F24. Fruits de Mer Nouilles à la Sauce CariRouge / Seafood Noodles with Curry Sauce
Des poivrons, des oignons et des aubergines dans une sauce au cari rouge Thaïlandais, douce et épicée, au dessus des nouilles
Peppers, onions and eggplant in a spicy, sweet, Thai red curry with coconut milk served on noodles
F25. Poulet Nouilles à la Sauce Cari Rouge / Chicken Noodles with Curry Sauce
Des poivrons, des oignons et des aubergines dans une sauce au cari rouge Thaïlandais, douce et épicée, au dessus des nouilles
Peppers, onions and eggplant in a spicy, sweet, Thai red curry with coconut milk served on noodles
Riz Frit/Fried Rice
Riz frit style Chinois sauté dans le Wok avec votre choix d'ingrédients
Chinese style stir-fried rice in the Wok with your choice of ingredients
G1. Style Wok Café Riz Frit / Wok Cafe Style
| | | |
| --- | --- | --- |
| Crevette / Shrimp | 9.95 | |
| Poulet / Chicken | 9.95 | |
| Porc / Pork | 9.95 | |
| Calmar / Calamari | 9.95 | |
G2. Yang Chow Riz Frit / Yang Chow Fried Rice
| | | |
| --- | --- | --- |
| Crevette / Shrimp | 9.95 | |
| Porc / Pork | 9.95 | |
G3. Crevette Riz Frit / Shrimp Fried Rice
G4. Fruits de Mer Riz Frit / Seafood Fried Rice
G5. Boeuf Riz Frit / Beef Fried Rice
G6. Poulet Riz Frit / Chicken Fried Rice
G7. Porc BBQ Riz Frit / BBQ Pork Fried Rice
G8. Légumes Riz Frit / Vegatable Fried Rice
G9. Poisson Salé et Poulet Riz Frit / Salty Fish
G10. Fruits de Mer Riz Frit Style Thaïlandais /Seafood Thai Style Fried Rice
Riz frit sauté avec des épices et du basilic Thaïlandais.
Stir fried rice with spices and Thai basil
G11. Poulet Riz Frit Style Thaïlandais / Chicken Thai Style Fried Rice
Riz frit sauté avec des épices et du basilic Thaïlandais.
Stir fried rice with spices and Thai basil
G12. Fruits de Mer Riz Frit Style Singapore / Seafood Singapore Style Fried Rice
G13. Poulet Riz Frit Style Singapore / Chicken Singapore Style Fried Rice
G14. Riz Frit aux Ananas Style Thaïlandais / Thai Style Pineapple Fried Rice
Riz sucré sauté avec du poulet, des crevettes, des ananas et des noix de cajou
Sweetened stir fried rice with chicken, shrimp, pineapples and cashew nuts
Riz/Rice
H1. Crevettes Riz dans Une Sauce aux Oeufs Sur du Riz Blanc / Shrimps with Egg Sauce on Steamed Rice
H2. Côtelettes de Porc Sautés avec Sel et Épices Sur du Riz Blanc / Pork Chops Sauteed with Salt and Pepper on Steamed Rice
H3. Ragoût de Boeuf Style Chinois / Chinese Style Beef Stew
Sur du riz blanc./On steamed rice
H4. Boeuf avec la Sauce aux Tomates Chinoise / Beef with Chinese Tomato Sauce
Sur du riz blanc./On steamed rice
H5. Boeuf avec Oeufs sur du Riz Blanc / Beef with Egg on Steamed Rice
H6. Légumes sur du Riz Blanc / Vegetables on Steamed Rice
| | | |
| --- | --- | --- |
| Boeuf / Beef | 8.95 | |
| Poulet / Chicken | 8.95 | |
H7. Légumes sur du Riz Blanc /Vegetable on Steamed Rice
Fruits de Mer/Seafood
Un bol de riz blanc inclus.
Remplacer le riz blanc avec des nouilles pour $2.95 extra.Remplacer le riz blanc avec du riz frit pour $2.50 extra.
Ajouter un bol de riz blanc pour $2.00. /
One bowl of white rice included.:Replace white rice for noodles for $2.95 extra. Replace white rice for fried rice for $2.50 extra. Add an extra bowl of white rice for $2.00
I1. Crevettes Général Tao / General Tao Shrimps
Pané, frit et enrobé par notre sauce fameuse, sucrée et piquante
Battered, fried and covered in our famous spicy, sweet and tangy sauce
I2. Crevette Sautés avec Sel et Épices/ Shrimp Sauteed with Salt and Pepper
Légérement pané, frit et sauté dans le Wok avec des poivrons et des épices
Lightly battered, fried, sauteed in the Wok with peppers and spices
I3. Fruits de Mer Sautés avec Sel et Épices/ Seafood Sauteed with Salt and Pepper
Légérement pané, frit et sauté dans le Wok avec des poivrons et des épices
Lightly battered, fried, sauteed in the Wok with peppers and spices
I4. Crevettes Poivrées aux Èpinards/ Pepper Sauce Shrimps with Spinach
Sauté avec une sauce au poivre épicée dessus des épinards frits
Stir fried with hot pepper sauce on top of a bed of fried spinach
I5. Crevettes Kon Pao / Kon Pao Shrimps
Sauté avec des légumes et des arachides dans une sauce epicée
Stir fried with vegetables and peanuts in a spicy sauce
I6. Crevette Style Thaïlandais / Shrimp Thai Style
Sauté avec des épices, du basilic, des oignons et des poivrons/Stir fried with spices, basil, onions and peppers
I7. Fruits de Mer Thaïlandais / Seafood Thai Style
Sauté avec des épices, du basilic, des oignons et des poivrons
Stir fried with spices, basil, onions and peppers
I8. Filet au Poisson Thaïlandais/ Fish Filet Thai Style
Sauté avec des épices, du basilic, des oignons et des poivrons
Stir fried with spices, basil, onions and peppers
I9. Crevette Sauce Cari Rouge/ Shrimp Red Curry Sauce
Poivrons, oignons et aubergines dans une sauce au cari rouge Thaïlandaise, douce et épicée, avec le lait de coco
Peppers, onions, eggplant in a spicy, sweet and Thai red curry with coconut milk
I10. Fruits de Mer Sauce Cari Rouge / Seafood Red Curry Sauce
Poivrons, oignons et aubergines dans une sauce au cari rouge Thaïlandaise, douce et épicée, avec le lait de coco
Peppers, onions, eggplant in a spicy, sweet and Thai red curry with coconut milk
I11. Filet au Poisson Sauce Cari Rouge/ Fish Filet Red Curry Sauce
Poivrons, oignons et aubergines dans une sauce au cari rouge Thaïlandaise, douce et épicée, avec le lait de coco
Peppers, onions, eggplant in a spicy, sweet and Thai red curry with coconut milk
I12. Crevettes Croustillantes au Sésame/ Crispy Sesame Shrimps
Pané et enrobé dans une sauce épicée et sucrée avec sésame/
Deep fried, coated in a sweet and spicy sauce with sesame
I13. Filet de Poisson au Citron/ Fish Filet with Lemon Sauce
Pané et enrobé avec une sauce sucrée an citron/Breaded and fried with a sweet lemon sauce coating
I14. Crevettes á la Sauce D'Homard/ Shrimps in Lobster Sauce
Les crevettes sautés dans une sauce aux féves noires et oeufs savoureux/Shrimps stir fried in a tasty black bean and egg sauce
I15. Crevette Sauce Aigre-Douce aux Ananas/ Shrimp Sweet and Sour Sauce with Pineapple
Pané et enrobé dans une sauce sucrée aux ananas/Fried, covered in a sweet and sour pineapple sauce
I16. Filet de Poisso Sauce Aigre-Douce aux Ananas// Fish Filet Sweet and Sour Sauce with Pineapple
Pané et enrobé dans une sauce sucrée aux ananas/Fried, covered in a sweet and sour pineapple sauce
I17. Crevette Sauce aux Féves Noires/ Shrimp Black Bean Sauce
Poivrons et oignons sautés avec une sauce épicée aux féves noires/Peppers and onions stir fried in a spicy black bean sauce
I18. Filet de Poisson Sauce aux Féves Noires/ Fish Filet Black Bean Sauce
Poivrons et oignons sautés avec une sauce épicée aux féves noires/Peppers and onions stir fried in a spicy black bean sauce
I19. Foo Yang au Crevette / Shrimp Foo Yang
Omelette style Chinois avec des crevettes, échalottes et germes d`haricots/Chinese style egg omelette with shrimps, shallots and beanspouts
I20. Crevettes Sautés aux Noix de Cajou /Stir Fried Shrimps with Cashew Nuts
I21. Crevettes Sauté aux Légumes/ Stir-Fried Shrimps with Vegetables
I22. Fruits de Mer Sauté aux Légumes/ Seafood Stir-Fried with Vegetables
I23. Crevettes Sautés aux Broccolis/ Stir Fried Shrimps with Broccoli
I24. Crevettes Sautés aux Broccolis Chinois/ Stir Fried Shrimps with Chinese Broccoli
I25. Crevettes Széchuannaise/ Szechuan Style Shrimps
Crevettes sautés avec des oignons dans une sauce Szechuannaise douce et épicée/Stir fried shrimps with diced onions in a sweet and spicy Szechuan sauce
Poulet/Chicken
Un bol de riz blanc inclus.
Remplacer le riz blanc avec des nouilles pour $2.95 extra. Remplacer le riz blanc avec du riz frit pour $2.50 extra.Ajouter un bol de riz blanc pour $2.00 extra (disponible à la page suivante)
One bowl of white rice included. Replace white rice for noodles for $2.95 extra. Replace white rice for fried rice for $2.50 extra. Add on extra bowl of white rice for $2.00 extra (available on the next page)
J1. Poulet Général Tao / General Tao Chicken
Pané, frit et enrobé par notre sauce fameuse, surée et piquante/Battered, fried and covered in our famous spicy, sweet and tangy sauce
J2. Poulet Sautés avec Sel et Épices /Chicken Sauteed with Salt and Pepper
Légèrement pané, frit et sauté avec des poivrons et des épices/Lightly battered, fried and sauteed with peppers and spices
J3. Poulet Poivrée aux Épinards /Pepper Sauce Chicken with Spinach
Sauté avec une sauce au poivre épicée dessus des épinards frits
Stir fried with hot pepper sauce on top of a bed of spinach
J4. Poulet Kon Pao / Kon Pao Chicken
Sauté aux légumes et des arachides dans une sauce épicée/Stir fried with vegetables and peanuts in a spicy sauce
J5. Poulet Style Thaïlandais / Chicken Thai Style
Sauté avec des épices, du basilic, des oignons et des poivrons/Stir fried with spices, basil, onions and peppers
J6. Poulet au Cari Rouge / Red Curry Chicken
Poivrons, oignons et aubergines dans une sauce au cari rouge Thaïlandaise, douce et épicée, avec le lait de coco
Peppers, onions and eggplant in spicy, sweet, Thai red curry with coconut milk
J7. Poulet au Citron / Lemon Chicken
Poitrine du poulet pané et enrobé avec une sauce sucrée au citron/Chicken breast breaded and fried with a sweet lemon sauce coating
J8. Poulet Aigre Doux aux Ananas / Sweet and Sour Chicken with Pineapple
Pané et enrobé dans une sauce sucrée aux ananas/Fried and covered in a sweet and sour pineapple sauce
J9. Poulet Sauté à la Fèves Noires /Chicken with Black Bean Sauce
Poivrons et oignons sautés avec une sauce épicée aux fèves noires
Peppers and onions stir fried in a spicy black bean sauce
J10. Poulet Sauté aux Gingembre et Échalotes / Chicken Sauteed with Ginger and Shallots
J11. Poulet Sauté à la Sauceaux Arachides Épicées / Chicken with Spicy Peanut Sauce
Sauté avec des poivrons verts et les oignons dans une sauce épicée aux arachides/Stir fried with green peppers and onions in a spicy peanut sauce
J12. Poulet Sauté à la Sauce Satay /Chicken with Satay Sauce
Des poivrons, des oignons et des ananas sautés dans une sauce épicée/Stir fried peppers, onions and pineapple in a spicy sauce
J13. Poulet au Foo Yang / Chicken Foo Yang
Omelette style Chinois avec du poulet, des échalottes et des germes d'haricots/Chinese style egg omelette with chicken, shallots and beansprouts
J14. Poulet Sauté aux Noix de Cajou/ Stir Fried Chicken with Cashew Nuts
J15. Poulet Sauté aux Légumes / Chicken Stir Fried with Vegetables
J16. Poulet Sauté aux Broccoli / Chicken Stir Fried with Broccoli
J17. Poulet Sauté aux Broccoli Chinois / Chicken Stir Fried with Chinese Broccoli
J18. Poulet au Cari Singapore /Singapore Style Curry Chicken
Sauté avec des piments verts et des oignons dans une sauce épicée au cari jaune /Stir fried with green peppers and onions in a spicy yellow curry
J19. Poulet aux Sept Épices / Chicken with Seven Spices
Poulet, poivrons, oignons et l'ail sautés dans notre mélange d'épices Asiatiques/A special blend of Asian spices stir fried with chicken, peppers, onions and garlic
J20. Poulet Széchuannaise du Wok Café/ Wok Cafe Szechuan Chicken
Poulet pané et enrobé dans une sauce sucrée et épicée/Fried chicken covered in a sweet and spicy sauce
J21. Canard BBQ (1/2) / BBQ Duck (1/2)
J22. Poulet Soo Guy / Chicken Soo Guy
Poitrine du poulet pané et enrobé avec une sauce sucrée au cerise/Chicken breast breaded and fried with a sweet cherry sauce coating
Boeuf et Porc/Beef and Pork
Un bol de riz blanc inclus.
Remplacer le riz blanc avec des nouilles pour $2.95 extra.
Remplacer le riz blanc avec du riz frit pour $2.50 extra.
Ajouter un bol de riz blanc pour $2.00 extra (disponible à la page suivante)
One bowl of white rice included.Replace white rice for noodles for $2.95 extra.
Replace white rice for fried rice for $2.50 extra.
Add on extra bowl of white rice for $2.00 extra (available on the next page)
K1. Boeuf Poivrée aux Épinards / Pepper Sauce Beef with Spinach
Sauté avec une sauce au poivre épicée dessus des épinards frits/Stir fried with hot pepper sauce on top of a bed of fried spinach
K2. Boeuf Kon Pao / Kon Pao Beef
Sauté avec des légumes et des arachides dans une sauce épicée/Stir fried with vegetables and peanuts in a spicy sauce
K3. Boeuf Style Thaïlandais / Beef Thai Style
Sauté avec des épices, du basilic, des oignons et des poivrons/Stir fried with spices, basil, onions and peppers
K4. Boeuf au Cari Rouge / Red Curry Beef
Poivrons, oignons et aubergines dans une sauce au cari rouge Thaïlandaise, douce et épicée, avec le bit de coco
Peppers, onions, eggplant in a spicy, sweet and Thai red curry with coconut milk
K5. Boeuf Sauté á la Sauce Féves Noires / Beef with Black Bean Sauce
K6. Boeuf aux Gingembre et Échalotes / Beef with Ginger and Shallots
K7. Boeuf Sauté á la Sauce Satay / Beef with Satay Sauce
Des poivrons, des oignons et des ananas sautés dans une sauce épicée/
Stir fried peppers, onions and pineapples in a spicy sauce
K8. Boeuf Sauté aux Legumes / Beef Stir Fried with Vegetables
K9. Boeuf Sauté aux Broccoli / Beef Stir Fried with Broccoli
K10. Boeuf Sauté aux Broccoli Chinois / Beef Stir Fried with Chinese Broccoli
K11. Boeuf au Cari Singapore / Singapore Style Curry Beef
Sauté avec des piments verts et des onions dans une sauce épicée au cari jaune
Stir fried with green peppers and onions in a spicy yellow curry
K12. Boeuf á l'Orange / Orange Beef
Boeuf pané sauté avec l`écorce d`orange séchée dans une sauce sucrée et épicée/Fried beef strips sauteed with dried orange peel in a sweet and spicy sauce
K13. Côte de Boeuf / Beef Ribs
K14. Côtelettes de Porc / Pork Chops
K15. Côte de Boeuf avec Sauce Piquante au Miel // Beef Ribs with Pepper Honey Sauce
K16. Côte de Boeuf avec Sauce au Poivre / Beef Ribs with Black Pepper Sauce
K17. Boeuf au Sésame / Crispy Sesame Beef
Pané et enrobé dans une sauce épicée et sucrée avec sésame/Deep fried, coated in a sweet and spicy sauce with sesame
K18. Porc BBQ au Miel / Honey BBQ Pork
K19. Boeuf Sauté aux Champignons / Beef Sauteed with Assorted Mushrooms
K20. Boeuf Tranché à la Sauce aux Huitres /Sliced Beef with Oyster Sauce
K21. Ragoût de Boeuf Style Chinois / Chinese Style Beef Stew
K22. Tofu à la Sauce Piquante avec du Porc Haché (Mapo Tofu) / Hot and Spicy Tofu with Minced Pork (Mapo Tofu)
K23. Aubergine avec du Poisson Salé et du Porc Haché / Eggplant with Salty Fish and Minced Pork
K24. Côtes-Levées au Miel et l'ail / Honey Garlic Spare Ribs
Plats de Tofu/Tofu Dishes
Un bol de riz blanc inclus.
Remplacer le riz blanc avec des nouilles pour $2.95 extra.
Remplacer le riz blanc avec du riz frit pour $2.50 extra.
Ajouter un bol de riz blanc pour $2.00 extra (disponible à la page suivante)
One bowl of white rice included.
Replace white rice for noodles for $2.95 extra.
Replace white rice for fried rice for $2.50 extra.
Add on extra bowl of white rice for $2.00 extra (available on the next page)
L1. Tofu Général Tao / General Tao Tofu
Tofu frit et enrobé par notre sauce fameuse, épicée, sucrée et piquante/Fried tofu covered in our famous spicy, sweet and tangy sauce
L2. Tofu au Sauce Cari Rouge / Red Curry Tofu
Poivrons, oignons et aubergines dans une sauce au cari rouge Thaïlandaise, douce et épicée, avec le lait de coco/Peppers, onions and eggplant in a spicy, sweet, Thai red curry with coconut milk
L3. Tofu Sauté à la Sauce aux Arachides Épicée/ Tofu with Spicy Peanut Sauce
Sauté avec des poivrons verts, oignons dans une sauce épicée aux arachides/Stir fried with green peppers and onions in a spicy peanut sauce
L4. Cari Singapore / Singapore Style Curry
Sauté avec des piments verts et des oignons dans une sauce épicée au cari jaune/Stir fried with green peppers and onions in a spicy yellow curry
L5. Tofu aux Champignons Chinois et Broccoli/ Tofu with Chinese Mushrooms and Broccoli
L6. Tofu à la Sauce Piquante /Tofu in Hot and Spicy Sauce
L7. Tofu aux Champignons / Tofu with Assorted Mushrooms
Légumes/Vegetables
Un bol de riz blanc inclus.
Remplacer le riz blanc avec des nouilles pour $2.95 extra.
Remplacer le riz blanc avec du riz frit pour $2.50 extra.
Ajouter un bol de riz blanc pour $2.00 extra (disponible à la page suivante)
One bowl of white rice included.
Replace white rice for noodles for $2.95 extra.
Replace white rice for fried rice for $2.50 extra.Add on extra bowl of white rice for $2.00 extra (available on the next page)
M1. Légumes Sautés / Stir-Fried Mixed Vegetables
M2. Brocoli Chinois / Chinese Broccoli
M3. Champignons Chinois et Brocoli Chinois /Chinese Mushrooms and Chinese Broccoli with Assorted Mushrooms
M4. Brocoli aux Champignons Assortis / Broccoli with Assorted Mushrooms
M5. Aubergine à la Sauce "Yu Hsiang" / Eggplant with "Yu Hsaing" Sauce
M6. Aubergine Style Thaïlandais / Thai Style Eggplant
M7. Aubergine avec Sauce aux Fèves Noires / Eggplant with Black Bean Sauce
M8. Bok Choy Sauté à l'ail / Stir-Fried Baby Bok Choy with Garlic
Boissons/Beverages
Coca-Cola Diéte / Diet Coca-Cola
Bouteille d'Eau / Bottle of Water
Jus d'Orange / Orange Juice
Jus de Pomme / Apple Juice
Soda au Gingembre / Ginger Ale